Nitraria tangutorum Bobr. (NTB), mainly distributed in the Qaidam Basin of Tibetan Plateau, have high economic, ecological and medicinal value. The chemical compositions in the NTB fruits were tentatively analyzed and characterized by applying UPLC-Q-TOF-MS/MS. Total 45 constituents, including 9 hydroxycinnamic acids derivatives, 12 flavonols, 4 flavonoids, 1 trolox derivative, 8 β-carboline alkaloids, 4 tryptophan derivatives, and 7 other amino acid derivatives were identified by comparing with standard products, and analyzing their retention times, characteristic fragment ions and deprotonated molecule ions. The activity studies in vitro indicated that NTB-Z and NTB-C extracts had marked inhibitory effects against sucrase and maltase. Further sucrose/maltose/starch tolerance experiment demonstrated that both NTB-Z and NTB-C extracts at 400 mg/kg could markedly lower the postprandial blood glucose (PBG) level in diabetic animals. All these results indicated that the NTB fruits could be used as the functional health food or medicine for controlling postprandial blood glucose level.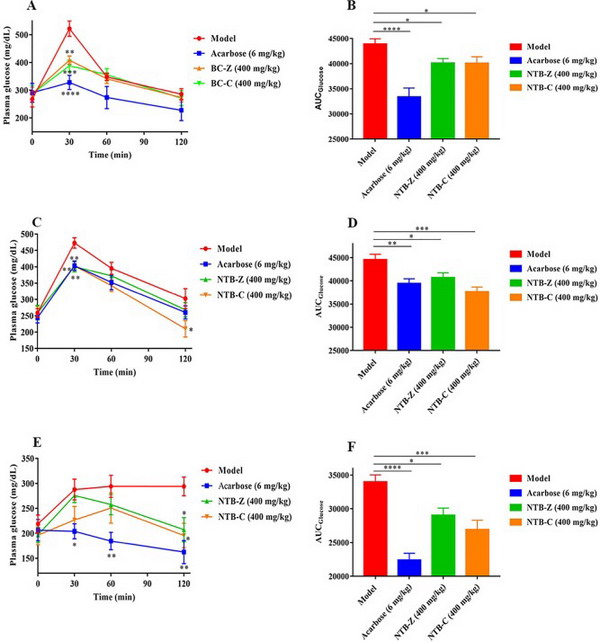 Fig. 4. A, C and E curves illustrating blood glucose levels of diabetic mice after loading sucrose (A)/maltose (C)/starch (E) with acarbose or Nitraria tangutorum Bobr. (NTB-Z and NTB-C) extracts. B, D and F: incremental AUC0-120min of diabetic mice after administrating sucrose (B)/maltose (D)/starch (F) with acarbose or Nitraria tangutorum Bobr. (NTB-Z and NTB-C) extracts. Experimental data are represented as the mean ± SEM (n = 8; ****, p < 0.0001; ***, p < 0.001; **, p < 0.01; *,p < 0.05; compared with the diabetic model group).
  This result was published in Frontiers in Food chemistry with the title of "Alkaloids and phenolics identification in fruit of Nitraria tangutorum Bobr. by UPLC-Q-TOF-MS/MS and their a-glucosidase inhibitory effects in vivo and in vitro".
  The link below will guide you to the reading: